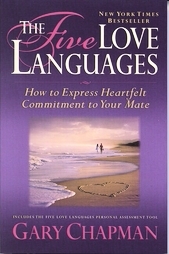 (Back Cover Reads)
"
Between busy schedules and long days, expressing love can fall by the wayside. We forget to compliment, to give gifts "just because," to linger in our embrace. The things that say "I love you" seem to either not get said or not get through. This is a book about saying it-and hearing it-clearly. No gimmicks. No psychoanalyzing. Just learning to express love in your spouse's language.
With over 10 million copies sold,
The 5 Love Languages
® has transformed countless relationships. Its ideas are simple and conveyed with clarity and humor, making this book as practical as it is personable. You'll be inspired by real-life stories and Dr. Gary Chapman's commonsense yet perceptive insights on relationships. Reading this book feels like taking a walk with a wise friend. Applying it will change your relationship forever-starting today."
I love this book.
The 5 love languages include;
Words of affirmation

Acts of service

Receiving gifts

Quality time

Physical touch.
There are 12 chapters, 5 of which are dedicated to each love language. In the back of the book there is a profile quiz for him and her to help you discover your love language (though by reading the book you may figure out which is yours.)
In a nut shell, this is a book that will change the way you approach showing your love; after all we all don't share the same love language. P
eople have their own, often unconscious way of expressing love and rarely do two spouses have the same "Love Language." So while, you may be showing love via Acts of Service your spouse's love language might be words of affirmation.
Real love takes work while the infatuation period is instinctual and effortless.
I know so many people who would benefit from reading this book, IF they actually were willing to change and put effort into their relationship.
The advise the author gives in this book is profound and universal, it can be applied successfully to any relationship you have (from your children, parents and close friends).
A must read for anyone who actually wants to work on their relationship!
I received this book from the publisher is exchange for an honest review. All opinions expressed are my own.
*As a side note-if you go to The 5 Love Languages website-you can take the love language profile quiz for free.