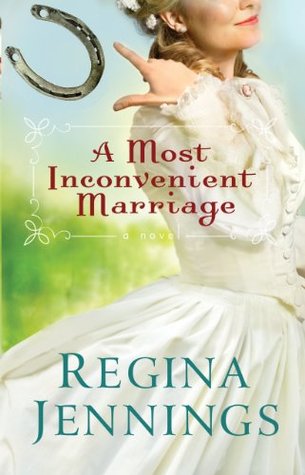 About the book:
"A Marriage of Convenience Turns Most Inconvenient in this Historical Charmer
Having fled a difficult home life, Civil War nurse Abigail Stuart feels like her only friend in the world is sweet but gravely wounded patient Jeremiah Calhoun. Fearing he won't survive, the Confederate soldier's last wish is that Abigail look after his sickly sister at home. Marry him, return to his horse farm, and it'll be hers.
Left with few choices, Abigail takes him up on his offer and moves to Missouri after his death, but just as the family learns to accept her, the real Jeremiah Calhoun appears--puzzled to find a confounding woman posing as his wife. Jeremiah is determined to have his life back to how it was before the war, but his own wounds limit what he can do on his own. Still not fully convinced Abigail isn't duping him, he's left with no choice but to let the woman stay and help--not admitting to himself she may provide the healing his entire family needs."
When I first read Regina Jennings debut novel, Sixty Acres and a Bride, I knew she was an author to watch. And this book proves it.
Though she's written several other books before this one, this is my second novel of hers; and once again, Regina Jennings doesn't disappoint.
From the moment I started reading, I didn't want to stop; the plot was really well done, with the suspense never to dramatic and unrelatable. I really enjoyed the humor in this book, it's not forced or fake, in fact I laughed out loud at several situations the characters found themselves in. Regina Jennings does a wonderful job
at writing life into all of the characters and the growth of the characters was totally natural and well paced.
With a mixture of faith, humor, characters with depth and a wonderfully thought out story line, A Most Inconvenient Marriage, captures the reader, making this a most inconvenient read as you will not want to put it down!
I received this book through Bethany House Publishing in exchange for an honest review. A positive review is not required or guaranteed, all opinions express are my own.